Anyone in your family or group the creative type? "Art on the Beach" combines two of life's great passions - art and travel - into one memorable beach-house vacation/retreat/getaway. A 3-story, 8-bedroom/5-bath ocean-to-river palace, with private elevator, heated swimspa pool, oceanfront hot tub, private dock, and more. The 2 top floors are outfitted in our 5-star luxury style, while the ground floor features 3 bedrooms plus art studios: A fully stocked & functioning paint/draw studio, fine arts/crafts/scrapbook studio, sand/shells/sculpture studio, plus kids studio. Your Florida beach-house getaway need never get boring!
Property Details
Bedrooms: 8
Baths: 5
Sleeps: 20
Amenities
Oceanfront
Riverfront Recreation Area
Riverfront
Swim Spa
Hot Tub
Elevator
Dock
Pet Friendly
Kid Friendly
Coming Soon
Are your dates unavailable?
Check availability
at our other beach homes.
How to Book
"Art on the Beach" is available on all major travel websites and beach house rental booking platforms. For pricing & availability, search your favorite travel platform for "Stuart FL" and use the map feature to navigate to the oceanfront area just east of the towns of Stuart Florida and Sewall's Point Florida. (There, you will find our "Beach Houses in Paradise", including Art on the Beach.).
3D Tour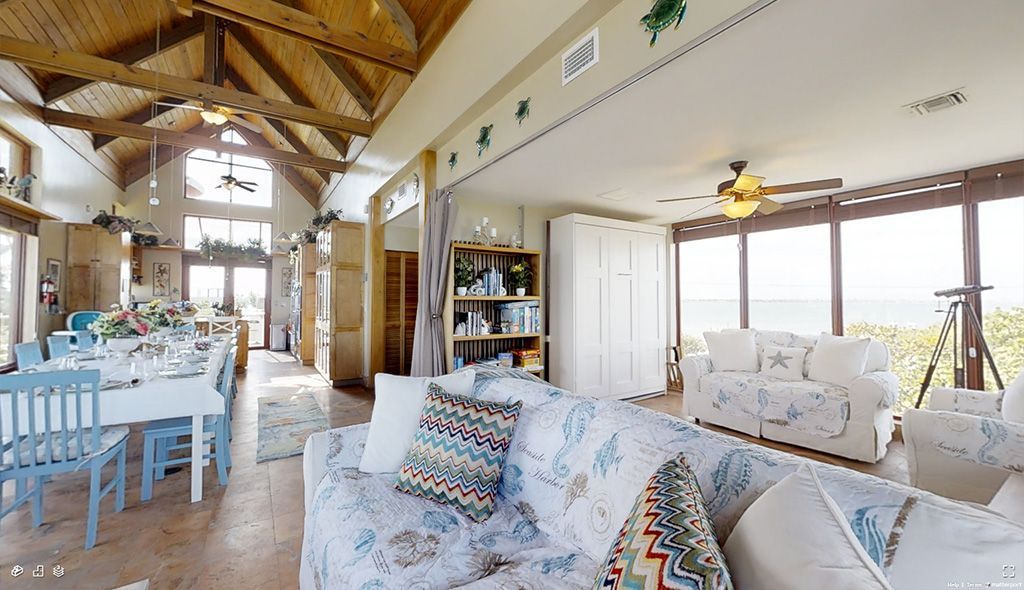 Floor Plan
Photo Gallery
Highlights:
Beach & Oceanfront Area:
Dock & Riverfront Recreation Area:
Kitchen & Living Areas:
Grand Master Bedroom Suite:
Additional Bedrooms:
Art Studio:
Garage:
Additional Interior Photos:
Exterior / Decking / Balconies:
Map