As an astrological sign, Aquarius is "the water bearer", the giver and sustainer of life. Let Aquarius' 5BR/4BA reinvigorate your life — and those of your family or group — with its countless water pleasures, including heated pool+spa, riverfront dock, beach, complementary water toys, fishing gear, scuba, bicycles, proximity to the ocean, and more. Jet skis and boats available too, or bring your own!
Wear your t-shirt, shorts and flip-flops to the airport, because that's all you need for your Florida beach-house vacation . . . We provide the rest. Travel light — and live large — with the fully-stocked, 5-Star-amenity properties of Beach Houses in Paradise. (Our motto is "We stock heavy, so you can travel light.")
At rates starting at less than $100 per night per bedroom, enjoy 5-star luxury amenities and accommodations at an affordable price (the proverbial champagne on a beer budget!). Note: Aquarius is rented only to one party at a time; you will not be sharing the premises with strangers or unknown travelers.

Own a boat? Bring it! Moor it at your own private dock, and there's even room to park your trailer. RV? room for that too!
SAVE! We offer many discounts: military, educators, civil service, rescue and law enforcement, medical and more. Active or retired. Even Florida residents save $. (But Seniors aged 50+ get the biggest discount of all.)
Not only is the home situated in the most biodiverse marine environment in America (source: Florida Oceanographic Institute), but it's also located in Stuart FL, Winner of the "America's Happiest Seaside Town" award given annually by Coastal Living Magazine! (Locals — of a certain age that remember TV's "The Andy Griffith Show" — proudly call Stuart the "Mayberry of Florida".)
What others say about our town (Stuart, FL)
Coastal Living Magazine: #1 Happiest Seaside Town in America (2016)
House Beautiful Magazine: #1 Most Beautiful Small Town in Florida
Smithsonian Magazine: Best Small Towns to Visit in the U.S. (3rd place)
America In Bloom (Audubon group): #1 Most Beautiful City in America
American Planning Association: #1 City in Florida (2020 winner)
Oprah Winfrey: "Most charming American towns you've never heard of" (6th place,  O Magazine, Jan 2020)
FindTheHome: #1 Best Place to Retire in the U.S.
OnlyInYourState: 1 of 8 "Most Beautiful Small Towns in Florida"
Huffington Post: Top Florida Beach Towns

A nature-lover's paradise
This property sits at the southern terminus of the Indian River, the most biologically diverse estuary in all North America (according to marinelife samples taken by the Florida Oceanographic Society marine biologists in May 2015 ... samples taken just yards away from this home's dock!) From the dock, tiki hut, or oceanfront deck, watch manatees, dolphins, and sea turtles frolic year-round. Birdlife abounds with ibis, egrets, herons, warblers, pelicans and more. And fishing? Well, let's just say that while a Publix supermarket is conveniently located just a few blocks down the street, you'll never need to buy fish from the market during your stay!
A water wonderland
In addition to the private beach, enjoy your own private dock adjacent to tiki-hut entertainment deck, complete with complimentary fishing equipment (fully-stocked bait and tackle), snorkeling gear, and even complimentary water toys like paddleboards, surfboards, kayaks , rafts and more. If you're not bringing your own, boats and jet skis are available too.
A treasure chest of delight
And there's even more fun to be had: The home sits smack dab in the middle of the "Treasure Coast". To this very day, gold doubloons, pieces of eight and other spanish treasure still occasionally wash up along Hutchinson Island, especially following big storms. The nearby House of Refuge Museum showcases relics from prior shipwrecks, one of which — the Georges Valentine wreck — is a fun snorkeling experience and is close enough to swim to from the beach nearby! (Complimentary beach-comber metal-detectors are provided, of course.)
Help preserve our pristine area
The waters in and around the beach house are among the most biologically rich and environmentally sensitive in the entire United States. The owners of the home are ardent supporters of local environmental groups for 20+ years, with financial support and contributions well into the 7 figures.
Help preserve the natural beauty and sensitive ecosystem surrounding the home:
Do not touch or approach dolphins, sea turtles and manatees (who sometimes swim near the end of the dock). These are protected species. The Florida Fish and Wildlife officers in their boats have powerful binoculars; they WILL arrest you.
Be responsible with your fishing tackle. Avoid leaving behind loose lines, hooks and other tackle after a successful day fishing. (Pelicans, egrets, heron and other birdlife get tangled in fish lines or snagged by hooks ... or by fish they've caught who still have a hook in their mouth.)
Do not litter (this includes urinating into the water, emptying alcohol or soda into the water, and so on).
Property Details
Bedrooms: 5
Baths: 4
Sleeps: 15
Amenities
Pool
Kid Friendly
Riverfront Recreation Area
Riverfront
Pet Friendly
Dock
Hot Tub
Pool
Pet Friendly
Kid Friendly
Dock
Riverfront Recreation Area
Hot Tub
Riverfront
Availability (Reserve your Dates)
Coming Soon
Are your dates unavailable?
Check availability
at our other beach homes.
How to Book
"Aquarius" is available on all major travel websites and beach house rental booking platforms. For pricing and availability, search your favorite travel platform for "Stuart FL" and use the map feature to navigate to the oceanfront area just east of the towns of Stuart Florida and Sewall's Point Florida. (There, you will find our "Beach Houses in Paradise", including Aquarius.)
Need help or have questions?
We'd love to make your vacation exceptional! Ask us about availability, pricing, and more.
3D Tour
Take the Aquarius
virtual tour
via MatterPort 3D (or click the following image)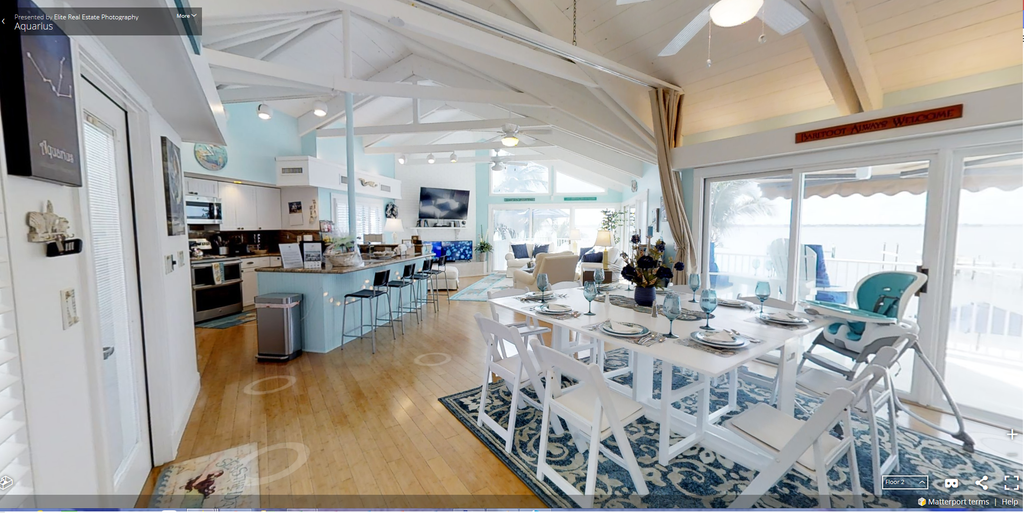 Floor Plan

Photo Gallery
Highlights:
Dock & Riverfront Recreation Area:
Exterior (a closer look):
Kitchen & Living Areas:
Bedrooms:

Map
FAQ
Is Aquarius wheelchair or motion-impaired accessible?

Like most homes in this area, only the ground floor is accessible to motion-impaired individuals. Reason: Florida building codes in this oceanfront area require that the living and sleeping areas of these homes be well over 12 to 18 feet above sea level, to withstand the surging waves and debris that hurricanes present. To enter the primary living areas on Level 2, one must climb stairs. On this second floor, you will find the entire home: Living room, kitchen, and 5 bedrooms.

Are events allowed at Aquarius?

Although Aquarius is available for small-scale and modest events, it is NOT a party house. The area surrounding the home is environmentally fragile, and cannot safely withstand more people than the posted maximum occupancy of the home itself. The house also lacks a single large room suitable for hosting a large group. If you want to have a big party near the beach, consider these nearby alternatives: The Marriott Hutchinson Island Resort has ample facilities for large events, and The House of Refuge has a smaller room that it rents out to small-to-medium-size events.

Are there alligators?

Alligators don't exist in this part of Florida. (Gators can't survive near the beach in saltwater environments; they live only inland, where there is plenty of fresh water.) At Aquarius, both the river and ocean are salty.

Can I combine a Florida beach house vacation with a Disney World Orlando vacation?

Yes. For those interested in combining a beach house experience with Mickey Mouse, Disney World, Universal, and all the other Orlando Resorts: It's a two-hour drive from Aquarius to Disney and Orlando, driving along the Florida Turnpike. (Avoid the Interstate). Many vacationing families in our beach home community will spend a week bringing three (or four) generations together in a Florida beach house, then "spin off" the younger side of the family to Disney World for a few days.