"Chateau de la Mer" is a sparkling 9BR/6BA gated beachfront estate that boasts a heated private oceanfront pool, private elevator, oceanfront hot tub and all the high-end luxury touches and finishes found only in the very finest oceanfront estates in America. The home is situated on a private beach in a quiet residential area—there are no condo high rises, resorts, or large public beaches for miles. (No crowds, just a beach all to yourself & your group).
Property Details
Bedrooms: 9
Baths: 6
Sleeps: 22
Amenities
Oceanfront
Pet Friendly
Elevator
Pool
Kid Friendly
Hot Tub
Oceanfront
Pool
Pet Friendly
Kid Friendly
Elevator
Hot Tub
Availability (Reserve your Dates)
Coming Soon
Are your dates unavailable?
Check availability
at our other beach homes.
How to Book
Located in the idyllic seaside community of Jensen Beach, FL, "Chateau de la Mer" is available on all major travel websites and vacation-rental booking platforms. For pricing & availability, search your favorite travel platform for "Jensen Beach FL", and use the map feature to navigate to the oceanfront area just east of Jensen Beach FL.
Need help or have questions?
We'd love to make your vacation exceptional! Ask us about availability, pricing, and more.
3D Tour
Take the Chateau de la Mer
virtual tour
via MatterPort 3D (or click the following image)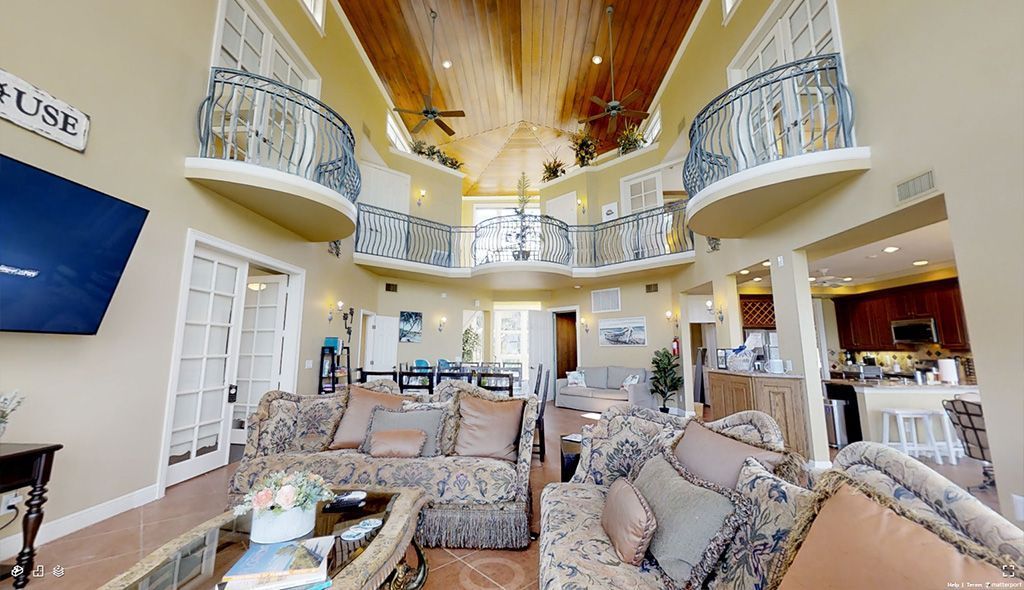 Floor Plan

Photo Gallery
Highlights:
Beach & Oceanfront Area:
Kitchen & Living Areas:
Grand Master Bedroom Suite:
Additional Bedrooms:
Garage & Driveway:
Additional Interior Photos:
Exterior / Decking / Balconies:

Guest Book
Previous guests at Chateau de la Mer have posted zillions of reviews online, at all the different travel websites, Facebook, Google Reviews, Yelp and beyond. Even more elect to do it "the old-fashioned way" . . . by making hand-written entries into a physical journal located at the home itself:
Map