"Restoration Sands" is a 9BR/6BA Scandinavian-style spa/retreat and ocean-to-river beachfront getaway. Originally a Fortune 500 corporate lodge and fishing retreat (owned at one point by the infamous Enron company), this sanctuary on the sea was recently remodeled from ground to roof and features high-end kitchen appliances, sauna, steam baths and more. Plus: directly across the street lies your boat dock on the pristine Indian River Lagoon and Estuary, with boating access to the ocean only 1 mile away.
Rejuvenate with a beachfront massage — or yoga class in the sand — on your own private 100 feet of Atlantic beach. Refresh with a swim in the warm waters of the Florida Atlantic ocean. Revive your spirit. Reinvigorate your relationships. Reconnect with family. Renew the spark. All at Restoration Sands!
This temple to tranquility is an ocean-to-river paradise perched high atop an oceanfront sand dune. The home is so close to the ocean that a child can toss a tennis ball into the water, from the home's large wraparound deck. And with 9 bedrooms and 6 bathrooms (including 4 bedrooms with private en-suite bathrooms), this stylish retreat is packed with features to delight everyone in your family group, across all ages. 
Wear your t-shirt, shorts and flip-flops to the airport, because that's all you need for your Florida beach-house vacation . . . We provide the rest. Travel light — and live large — with the fully-stocked, 5-Star-amenity properties of BHIP! ("We stock heavy, so you can travel light".)
At rates starting at less than $100 per night per bedroom, enjoy 5-star luxury amenities and accommodations at an affordable price (the proverbial champagne on a beer budget!). Note: This beach house is rented only to one party at a time; you will not be sharing the premises with strangers or unknown travelers.
Restoration Sands is situated on a private beach in a quiet residential area — there are no condos, high rises or large public beaches for miles. (No crowds, just a beach all to yourself and your group.) The Atlantic Ocean is right off your back porch. And right across the street is a 150-foot-long deep-water dock on the Indian River, offering some of the best fishing in the world, and stocked with all your favorite water toys (complimentary kayaks, paddleboards, snorkel gear, bicycles, boogie boards, inflatable rafts, fishing poles and tackle, metal detectors, and more).
SHARED DOCK: The dock at Restoration Sands is shared with another BHIP property, Nirvana Shores, directly across the street.
Own a boat? Bring it! Moor it at the dock, and there's even room to park your trailer. (Boat ramp is just 1 mile away.)
SAVE! Paradise need not hurt the wallet/pocketbook. We offer many discounts: military, educators, civil service, rescue and law enforcement, medical and more. Active or retired. Even Florida residents save $ (but if you are age 50+, enjoy our SENIOR discount — by definition, the biggest discount of all).
And what a delightful neighborhood it is: Not only is the home situated in the most biodiverse marine environment in North America (source: Florida Oceanographic Institute), but it's also located in Stuart FL, Winner of the "America's Happiest Seaside Town" award given annually by Coastal Living Magazine. (Locals — of a certain age that remember TV's "The Andy Griffith Show" — proudly call Stuart the "Mayberry of Florida".)
What others say about our town (Stuart, FL)
Coastal Living Magazine: #1 Happiest Seaside Town in America (2016)
House Beautiful Magazine: #1 Most Beautiful Small Town in Florida
Smithsonian Magazine: Best Small Towns to Visit in the U.S. (3rd place)
America In Bloom (Audubon group): #1 Most Beautiful City in America
American Planning Association: #1 City in Florida (2020 winner)
Oprah Winfrey: "Most charming American towns you've never heard of" (6th place,  O Magazine, Jan 2020)
FindTheHome: #1 Best Place to Retire in the U.S.
OnlyInYourState: 1 of 8 "Most Beautiful Small Towns in Florida"
Huffington Post: Top Florida Beach Towns

One of only 60 beach houses like it in the USA
This beach house is among the fewer than 60 beach houses in the entire U.S. that sit DIRECTLY ON THE OCEAN and also sit DIRECTLY ON A MILE-PLUS WIDE RIVER with dock for fishing and water toys, and where the river empties into the ocean just a short mile away. Start every day with breakfast views of a glorious sunrise gently emerging above the peaceful ocean. Usher in each evening with mesmerizing vistas of golden-hued sunsets rippling across the majestic Indian River.
A water wonderland
In addition to the private beach, enjoy the dock adjacent to tiki-hut entertainment deck, complete with complimentary fishing equipment (fully-stocked bait and tackle), snorkeling gear, and even complimentary water toys like paddleboards, kayaks , rafts and more. If you're not bringing your own boat or jet skis, rent just a few hundred yards away from the dock!
A treasure chest of delight
And there's even more fun to be had: This Ocean-to-River Beach House sits smack dab in the middle of the "Treasure Coast". To this very day, gold doubloons, pieces of eight and other spanish treasure still occasionally wash up along Hutchinson Island, especially following big storms. In fact, just 200 yards away to the north of the beach house, the House of Refuge Museum showcases relics from prior shipwrecks, one of which — the Georges Valentine wreck — is a fun snorkeling experience and is close enough to swim to from the beach house! (Complimentary beach-comber metal-detectors are provided, of course!).
Help preserve our pristine area
The waters in and around the beach house are among the most biologically rich and environmentally sensitive in the entire United States. The owners of the home are ardent supporters of local environmental groups for 20+ years, with financial support and contributions well into the 7 figures.
Help preserve the natural beauty and sensitive ecosystem surrounding the home:
Do not touch or approach dolphins, sea turtles and manatees (who sometimes swim near the end of the dock). These are protected species. The Florida Fish and Wildlife officers in their boats have powerful binoculars; they WILL arrest you.
Be responsible with your fishing tackle. Avoid leaving behind loose lines, hooks and other tackle after a successful day fishing. (Pelicans, egrets, herons and other birdlife get tangled in fish lines or snagged by hooks ... or by fish they've caught who still have a hook in their mouth.)
Do not litter (this includes urinating into the water, emptying alcohol or soda into the water, and so on).
Property Details
Bedrooms: 9
Baths: 6
Sleeps: 20
Amenities
Oceanfront
Kid Friendly
Elevator
Resort Access
Riverfront
Pet Friendly
Dock
Riverfront Recreation Area
Hot Tub
Oceanfront
Pet Friendly
Kid Friendly
Dock
Elevator
Riverfront Recreation Area
Resort Access
Hot Tub
Riverfront
Availability (Reserve your Dates)
Coming Soon
Are your dates unavailable?
Check availability
at our other beach homes.
How to Book
"Restoration Sands" is available on all major travel websites and beach house rental booking platforms. For pricing and availability, search your favorite travel platform for "Stuart FL" and use the map feature to navigate to the oceanfront area just east of the towns of Stuart Florida and Sewall's Point Florida. (There, you will find our "Beach Houses in Paradise", including Restoration Sands.)
Need help or have questions?
We'd love to make your vacation exceptional! Ask us about availability, pricing, and more.
3D Tour
Take the Restoration Sands
virtual tour
via MatterPort 3D (or click the following image)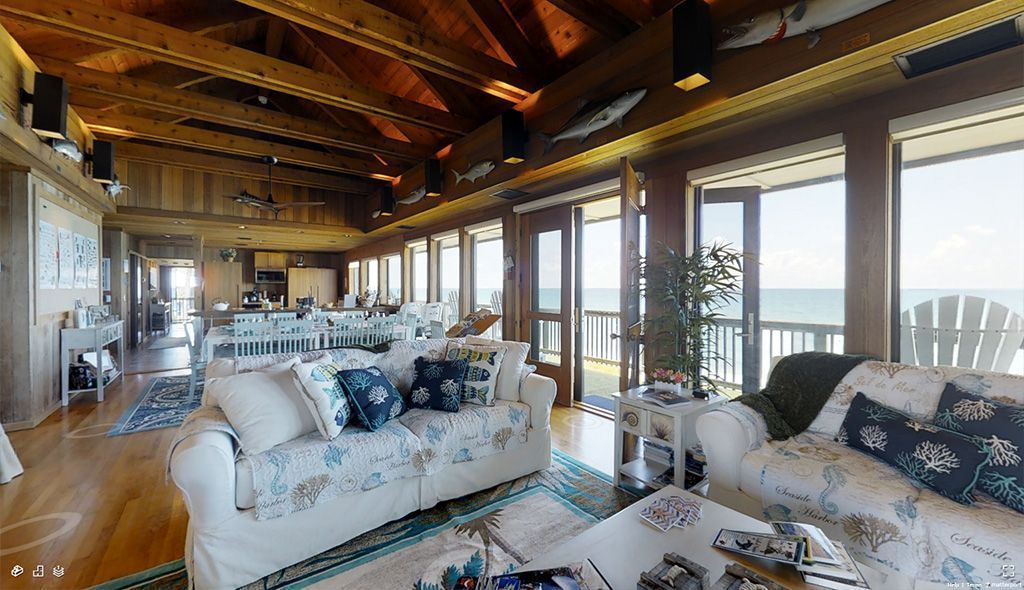 Floor Plan

Photo Gallery
Highlights:
Beach & Oceanfront Area:
Dock & Riverfront Recreation Area:
Kitchen & Living Areas:
Grand Master Bedroom Suite:
Additional Bedrooms:
Driveway:
Additional Interior Photos:
Exterior / Decking / Balconies:



Map
FAQ
Are the kayaks and jet skis included?

All human-powered toys you see — from bikes to kayaks, from paddle boards to snorkels — are included free with your rental. (Note that surfboards tend to be highly specialized items that many of our guests bring themselves. If you would like to rent surfboards, they are available from several providers.) Motorized items — such as jet skis, boats, cars, or RV's — can be rented from nearby providers.

Are there alligators?

Alligators don't exist in this part of Florida. (Gators can't survive near the beach in saltwater environments; they live only inland, where there is plenty of fresh water.) At Restoration Sands, both the river and ocean are salty.

Can I combine a Florida beach house vacation with a Disney World Orlando vacation?

Yes. For those interested in combining a beach house experience with Mickey Mouse, Disney World, Universal, and all the other Orlando Resorts: It's a two-hour drive from Restoration Sands to Disney and Orlando, driving along the Florida Turnpike. (Avoid the Interstate). Many vacationing families in our beach home community will spend a week bringing three (or four) generations together in a Florida beach house, then "spin off" the younger side of the family to Disney World for a few days.